Well, I guess after today, Haley is no longer a baby, she is officially a toddler. The party was so fun, and Haley seemed to love all the attention. She barely had a nap before the party. I was just anticipating her becoming a beast in the middle of the party, but she did really well. She got so many neat gifts. I can't tell you enough how generous our family and friends are, we are so blessed have you all in ours and Haley's lives. Thank you again for sharing this special day with us!!!!
The cake was WONDERFUL!!!! Haley didn't seem too impressed though. She wasn't quite sure what to make of it, and didn't tear it apart like most kids do at their 1st birthdays. She is such a girly girl, she didn't want to get too dirty I guess.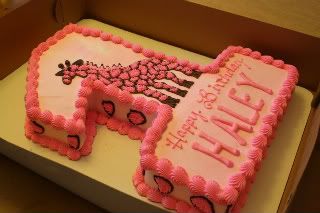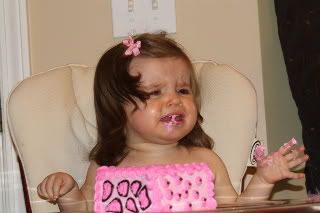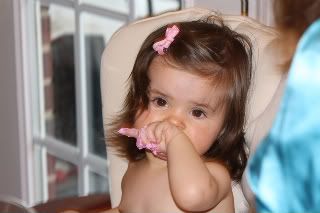 And here are just some random pics from the party. I will put the rest on Picasa. I can't believe her first year has come and gone....and that she actually survived US!!! I now really know what people mean when they say time passes in the blink of an eye, to enjoy every moment of it. They do grow up so fast. It seems like yesterday when we were bringing our newborn baby home for the first time. I can't wait to see what the next year holds for us!!!