Whewww....we are just getting settled in for the night, we had a pretty busy day today. We met with Dr Gunay and her nurse Joy this morning and they got a complete medical history on Haley and attempted to do an exam. Haley let Dr Gunay know right off the bat she was in no mood to be messed with today, so the doctor didn't push it. That is one of the good things about particiapting in a study, it is completely voluntary you can choose at any time to stop if you feel like you have had enough and the doctors and nurses don't keep pushing something that is obviously not working.

Our next stop was the opthamologist. Because retinal dystrophy is related to JS, they wanted a complete and thorough eye exam done. Haley's vision is normal for her age, there are no signs of retinal dystrophy and they agree that she has ocular motor apraxia. But the opthamologist did point out a new finding today with an abnormality with one of her eye muscles which may or may not be related to JS. Basically one of her eye muscles are lazy and she tilts her head to correct her vision. He said it was nothing to worry about and is actually pretty common, lots of people walk around with it and never know it. It can be corrected with surgery, which he did not recommend right now since it didn't seem to be causing her any problems.

Then Haley managed to catch a quick nap and when we got back to the hospital guess who was waiting on her......Santa Claus....AGAIN!!!! This time his helpers were three Washington Redskins Cheerleaders. Of course we left the camera in the room, but there wasn't much of a photo opp....she refused to even look at him again. And of course she got more gifts from Santa. They really are too good to us!!!
After that Haley had to have an EEG (electroencephalograph) to study her brain waves because JS is linked to seizure activity (which she does not have a history of). I just knew this was going to be difficult, but the tech, Jackie, knew exactly how to handle Haley.....this wasn't her first rodeo!!! She somehow managed to hook 23 leads to Haley's head. It took about 20 minutes to get set up, she had to measure and mark on her scalp, clean each individual lead location, then apply and tape each lead down then wrap her head in gauze to keep her from yanking them out. She played some corny kids video for her and let her play with some toys while she was getting her set up. Haley struggled with her a little bit, but in the end Haley knew Jackie would win this fight. We haven't gotten results from that yet.
That was our last appointment for the day so we decided to reward Haley with a visit with the resident therapy dog at the Inn named Viola. Viola lives here at the Inn and is a 6 year old yellow lab. Very sweet dog and I think it made Haley's day. As soon as she saw her she lit up. And when Viola left the room Haley stalked her all over the building. There also happened to be some reporters from USA Today there taking pictures and of course they couldn't resist taking pictures of Haley with Viola. I'm not sure what their article will be about but they said they would probably publish it sometime in January and would contact us to let us know when it was coming out.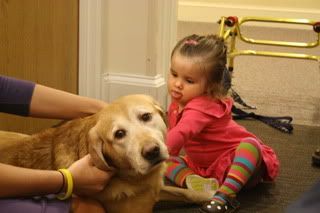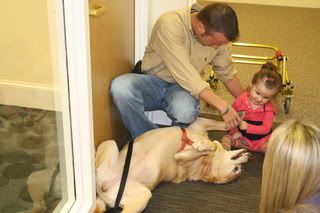 Tomorrow looks to be another busy day. First she has to have some blood drawn, this is what I have been dreading. I hate having her blood drawn, its a huge ordeal. Then she will have an ultrasound of her liver and kidneys then an echocardiogram. Then after nap time we meet with a nutritionist and the GI doctors. I'm tired already!!! Better get in bed!!! Good nite.