Another long exhausting day is over. It started off with a bang with Haley having blood drawn, which, as you would expect, was not a good way to start the day, but she did very well and seemed to forget all about the torture within a few minutes. But she didn't get much downtime after the labs. We went directly over to radiology to have a liver and kidney ultrasound. It took both Will and I to hold her down to get this done. It is not at all painful, but she has this thing about not wanting to show her belly. What can I say, she is modest, I like that!!!

See, I recover quickly!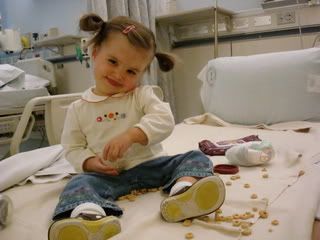 Daddy and I checking out the Cookie Monster gingerbread house
That was all for the morning time, and we all came back to the Inn took a nap. After lunch she had an echocardiogram (an ultrasound of the heart). She did surprisingly well with this which was essentially the same procedure as the abdominal ultrasound, just a few inches about her belly though. I'm not sure what the difference was other than she wasn't poked with a needle 10 mintues prior to this ultrasound like she was for the earlier ultrasound. Then we met briefly with a nutritionist, and she was very pleased with Haley's diet. Didn't really have much to offer with advice on how to make her diet any better, which made me feel pretty good about the job we do feeding her nutritious food. Haley has always eaten just about anything we put in front of her, but lately it has become a struggle with typical toddler picky behavior so I've been worried about how well I actually am feeding her.

Then we met with Dr Heller, a gastrointestinal doctor who studies the liver complications associated with JS and the other ciliopathies called portal hypertension and congenital hepatic fibrosis. I won't bore you with the explanations of what those are....google it if you are interested. I really wasn't expecting much out of his visit, but it turned out to be a very informative visit and a wake up call to not be so nonchalant about possible liver complications in the future. He said that Haley's liver and spleen were slightly abnormal on ultrasound. He said that the texture of her liver was abnormal but could not tell if it was true scarring associated with congenital hepatic fibrosis. Her spleen was also slightly enlarged. He said that at this point to not worry too much about it because all of her lab work was fabulous, actually better than the average JS patient that they see. He suggested that she just be followed yearly with ultrasounds and lab work. At first hearing her ultrasound was abnormal scared the bejesus out of us, but by the end of our meeting he made us feel a lot better, all we can do is keep a close eye on her and if she does develop liver problems she will be in good hands. But even though we were told not to worry, we still feel like we are in limbo waiting for the other shoe to drop.

Once we got back from the hospital we had yet another fun surprise waiting for us. The Montgomery County Police Motorcycle Units came to visit the Inn. About 30 or so cops on motorcycles came roaring through the front gates of the NIH with their lights and sirens blaring.....and guess who else was riding a motorcycle.....well, Santa of course!!!! This time we were prepared with a camera for Santa's visits, but for the third time Haley rejected Santa. Fox News was there filming. Here is a link to the story they ran, Haley wasn't in it but it shows what they did for the Inn.
Do you have a license to drive that walker young lady?
Santa upgraded his sleigh
Third strike with Santa
Playing with Viola again
We will be leaving tomorrow, and will be so ready to get back home!! Although the Children's Inn and everyone at the NIH has been wonderful, there really is no place like home. Tomorrow Will and I have to have blood drawn and then we meet with Dr Gunay for the final reports and wrap up. I assume we will talk about any need to follow up here with them and what our next steps are.