Wow!!!! Two blogs in one night!!!! But we had a great night, and I had some downtime to tell you about it. Haley took a good long nap until about 5pm and we decided to go walk around and we stumbled upon a little Christmas party they were having for the kids. The Ritz Carlton put on a wonderful "Polar Express" event for the kids and families tonight. They served grilled cheese sandwiches and soup. Santa and his helpers were there greeting families, taking pictures, and passing out gift bags. Haley got a cuddly stuffed lion and some little toys in her bag and we got a picture album and leather luggage tag in ours. Too bad we left the room without our camera, we missed out of some great pictures. Haley did not want ANYTHING to do with Santa, but there was a big bear there that she was very interested in. It was a pretty nice thing they did for the Children's Inn. There were several people there from the Ritz Carlton there volunteering their time to work the event and talk with the families and kids. One guy said it was just their way to help these kids that are here going through hell have a chance to have some normalcy. You could tell they were really here out of the kindness in their hearts, not just to get in volunteer time.

After dinner we went to the toddler play room....WOWWWWW I wish we had a play room like this at home!!! She played for ever in there, and did not want to leave. I'm sure we will be spending lots of free time in there.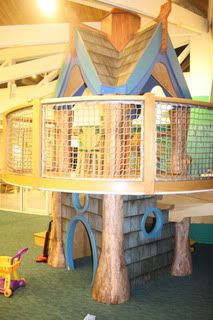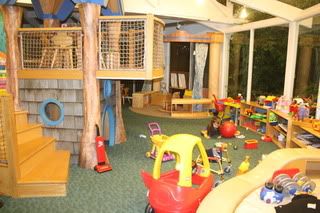 There is not much to do however once Haley's bedtime rolls around....hence the second blog in one day. Right now Will is downstairs in the gym while I stay up here with Haley. I hope I can get down there and run at some point this week, but I am temporarily sidelined by another pesky cold....thanks daycare germs!!!!!
See you again tomorrow!